Return home makes return to form for Plymouth
PLYMOUTH — A return to the friendly confines of Bill Nixon Field and a return to the mound of Tim Tremaine seemed to right whatever was wrong with Plymouth's Pilgrims as they looked rock solid in taking a 7-2 win over Concord.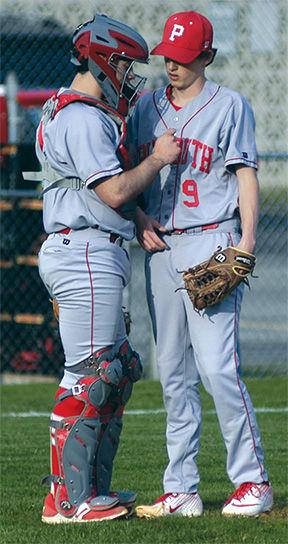 With weather making Concord's diamonds unplayable the game was moved to Plymouth and in a strange turn of events it was the Minutemen's second game at Bill Nixon Field this week. They played NorthWood there on Wednesday night in another weather predicated location move so the Minutemen had actually played on Plymouth's home field more than the Pilgrims themselves this week.
It didn't matter as Tremaine proved he and his team mates enjoy familiar surroundings, throwing just 69 pitches and giving up just three hits in taking his fourth win of the season. It's a performance that even more than a win, puts the team in a better place — psychologically at least — than they were 48 hours ago.
"I know it puts me in a better place," said Plymouth coach Ryan Wolfe. "Going to Elkhart Memorial and playing the way we played that's not us. That's kind of the way it's been. I think that Tim (Tremaine) has pitched a couple times this year where we haven't played so well in the game before him and its like he gets us back on track."
Tremaine was helped by some solid defense with some outstanding plays made behind him, several by Jesus Luva at third.
"It seems like when Timmy pitches every ball is hit to the left side. We joked in the dugout that maybe we should keep a stat when he's on the mound of how many times the opposing coach tells his hitters to stay back on the ball," said Wolfe. "It's fun to watch him pitch. It proves you don't have to throw gas to win baseball games. He throws strikes and is able to command three pitches and can throw them in any count."
"He works fast and is all around the zone," said Wolfe. "He has confidence out there. The guys behind him know that he's going to work fast and they expect the ball to be hit to them on every play and we play good defense behind him. When he's on the mound I think that our best defense is out there too."
Plymouth jumped ahead with two runs without the aid of a hit in the second, added another in the fourth and sealed the win with three in the sixth and another in the seventh. The key in the big three run sixth was three Concord errors.
"We got ahead early and were able to put some over there in the middle innings," said Wolfe. "I think we (forced Concord into) 11 ground balls and five pop ups to the infield. Just another story of being efficient on the mound, getting some pitches to hit and being aggressive on the bases. It was just a good overall win."
"Early on it was about situational hitting," said Wolfe. "I think Dex (Grant Dexter) got two strikes on him (in the second inning) and then just tried to hit a ground ball to the right side to drive in the run. In the later innings we were able to drive some balls, get people on the bases and use the athleticism that we have."
The Pilgrims ended the night with nine hits. Dexter, Thomas Dolan, Ezra Winkle and Jacob Deacon each had a pair of hits, Deacon added a pair of RBIs and Dolan had a double.
With NorthWood taking a win over Northridge there is a log jam on top of the NLC standing with those two teams and the Pilgrim each at 6-2. Plymouth (9-4) will play Fort Wayne Carroll in round one of the annual Plymouth Tournament on Saturday at 11 a.m. Game two will feature Penn and Hamilton Southeastern with the winners and losers facing off in the evening at Bill Nixon Field.
Plymouth 0 2 0 1 0 3 1 7-9-1
Concord 0 0 0 1 0 0 1 2-3-4
WP — Tremaine (4-0). LP — Dalton Swinehart. HR — Mendoza (C). 2B — Dolan (P).